Military
Millar Industries has significant experience supplying U.S. Government Prime Contractors with various components for Night Vision devices, hearing protection and other products destined for U.S. and Allied Forces.
Millar Industries is ITAR Registered
ITAR - International Traffic in Arms Regulations (ITAR) is a United States regulatory regime to control export of defense and military related technologies. ITAR is implemented by Directorate of Defense Trade Controls (DDTC) in the Bureau of Political-Military Affairs at the U.S. Department of State.
Case study: Elbit Systems of America – Night Vision, Monocular Night Vision device

Elbit Systems of America – Night Vision is the largest manufacturer of Gen 3 night vision equipment for U.S and allied forces. When they decided to build their next Monocular Night Vision Device, they required a business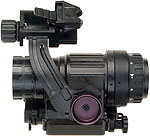 partner who could work with them through the entire project, from initial part design to full production.
Millar Industries' engineering team provides design assistance through numerous design revisions prior to production, which helped to insure a successful "Zero Tolerance Program".
Millar Industries produced the following components for the Gen 3 Night Vision Device:
(12) individual injection molded components
(6) Single cavity molds
(2) Two cavity family molds
(2) Two cavity discrete molds
In addition to our design assistance experience for Mil-Spec products, Millar Industries is experienced in the detailed bid proposal process as a Prime Government Contractor vendor. Our communications and customer service protocols allow our Military Contractors to easily integrate Millar Industries into their downstream supply channel.
For more information regarding Millar Industries Military Application services, download our company brochure here.
To schedule a video conference, or an on site Tour of our Production Facility and Corporate Offices, please fill in our Contact Form at right, or call us at (828) 687-0639.